From October 12-16, ZP Europe Virtual 2020 will take place and we will participate. The focus of our talks and presentations is our learning app chunkx. Here we'll show you some of the new features, which you can read more about below. Please note to register for the ZP Europe Virtual using our promo code chunkx_zpev20. Thank you in advance for this!
During the fair you will find our virtual booth here.
We're also offering a free workshop for all established and prospective authors out there on the topic of learning tasks. Read more here.
Excerpts from our updates on chunkx
So far, our micro-learning units in chunkx consist of a learning task with content feedback. This means that the learning content is executed in feedback behind a task. This way, we save learners time, take an adaptive approach, and don't have to unnecessarily go into content that a single person already knows. Nevertheless, there were wishes to be able to position learning content in front of the task as well – be it optionally by link or by a fixed display. Are you interested in the details? Talk to us.
We have created a completely new offer for educational institutes, freelance trainers & coaches and other organizations who want to create an offer for adaptive, sustainable learning to go with their trainings and seminars. Our first big Academy client is waiting to go live and we will already show you first snippets of it at ZP Europe Virtual.
Authors can now define learning objectives in the creator and thus control and log performance fulfillment in the same way as they are used to from an LMS. But with the big difference that in chunkx the separation between testing and learning is removed. We trigger learning processes with learning tasks that lead to adaptive content selection. The fulfillment of learning objectives takes place in passing, without the need for a separate and questionable final test.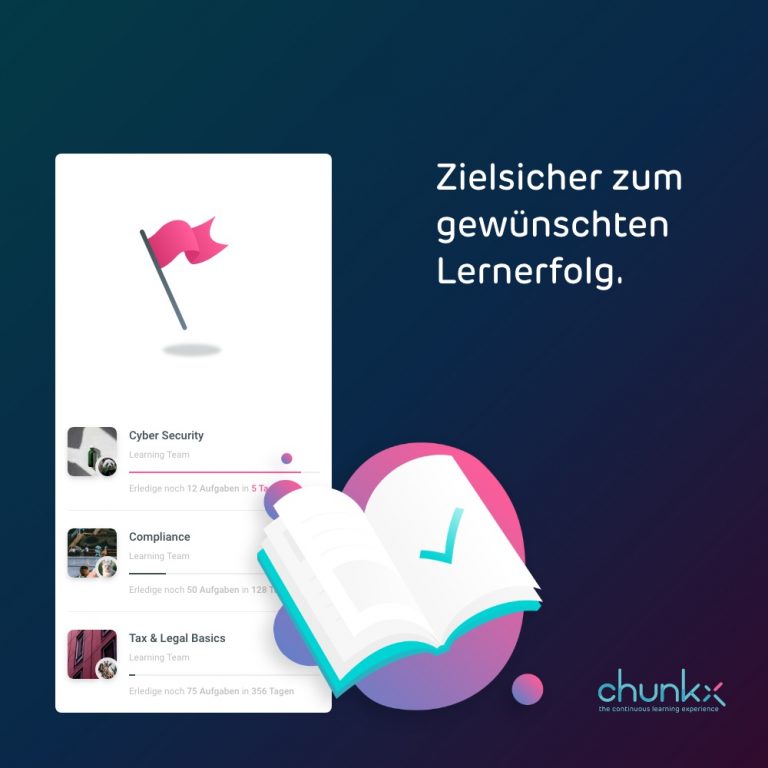 From new task types to adapted customization options to the new entry tutorial with diversity avatars: There's a lot to see for both our established customers and new contacts. It is best to register for a fixed appointment, we look forward to meeting you.
Workshop for the creation of learning tasks
From boring quiz questions to challenging learning tasks
We are offering a free workshop for all established and future writers out there on the topic of learning tasks. First come first serve – read more here and sign up today.