Digital Learning: The challenge of the growing flood of content
In a rapidly changing world of work, it is of great importance for companies to qualify their employees for the requirements of the future. In doing so, they face two major challenges:
There is no endless stream of new employees to recruit who already bring new skills and experience to the company. On the contrary, the choice is very limited and companies are struggling to find the best offers and concepts to attract talent and appear attractive as an employer brand.
#employerbranding #skilledlaborshortage
"The world is changing faster and faster," is a statement that may evoke a weary yawn from most people. Fair enough! Nevertheless, in light of the first challenge, continuing education is a constant and ongoing need for companies, particularly when it comes to preparing employees for unknown future challenges. Especially in terms of empowering employees to best deal with new challenges that we don't know about yet.
Accelerated by the Covid crisis, digital training has become a top priority for companies. The proliferation of new platforms, customized trainings, and eLearning offerings has resulted in an ever-growing flood of content.
However, it is unclear how effective these measures are. How much knowledge is actually retained? How much does a company benefit from courses that end abruptly and rely on learners either internalizing everything in detail immediately or looking at slides on their own later?
As the amount of learning content increases, attention to the individual topic inevitably decreases, and in the rush of daily work, content tends to fly by rather than take root. But how to solve this? How can individual follow-ups be generated on the topics employees are working on? How can we technologically create learning companions through which learning processes are thought of continuously instead of once and which can also react to changes on an ongoing basis? Who is going to be able to handle all this work?
I'm sure you already have an idea of the direction the answer will take. 😊
New possibilities with ChatGPT and other smart technologies
Thanks to extreme scalability, ChatGPT and other smart technologies offer a new form of sustainable and individual employee development. At chunkx, we use technology like this in many places to provide companies with a subscription option to any learning activity in their organization. In doing so, we take on the task of ensuring the impact and retention of the learning for each individual employee. There is more on our main page.
But how do we use ChatGPT and other smart technologies now? Here are a few examples:
1. Efficient and scaled content creation
Just a few months ago, it would have seemed inconceivable for 99% of Learning & Development leaders to create personalized microlearning units for potentially all learning activities in their organization and to individually select follow-ups based on knowledge levels. But now that most of them have had their first touches with OpenAI's ChatGPT, it's starting to become more tangible how high the quality of automatically created content has become.
What is often still a difficulty is a lack of context and a not inconsiderable proportion of false statements that nevertheless sound right. At chunkx, we solve both by creating the necessary context with content that exists inside or outside the company in the form of PDFs, WBTs, PowerPoints, or learning videos. Herewith ChatGPT and other language models have the necessary orientation to create suitable microlearning units.
2. Smart content selection
Imagine receiving follow-ups to every learning activity you participated in to enable learning transfer. You'd drown in emails and learning content and end up ignoring it because it's just too much and overwhelming.
At chunkx, we have developed our own algorithms to choose the right one for you from a number of thousands of microlearning units or, if necessary, to repeat one you have already worked on. Always with the aim of promoting learning transfer and ensuring sustainable learning success. Only through such a technology, which can guarantee the necessary reduction for the individual user for a wide variety of topics, can the acceptance and thus the overall success of the learning measures be ensured.
Language models and Natural Language Processing help us with smart or adaptively called content selection, e.g. via content tagging. We have written more about this here.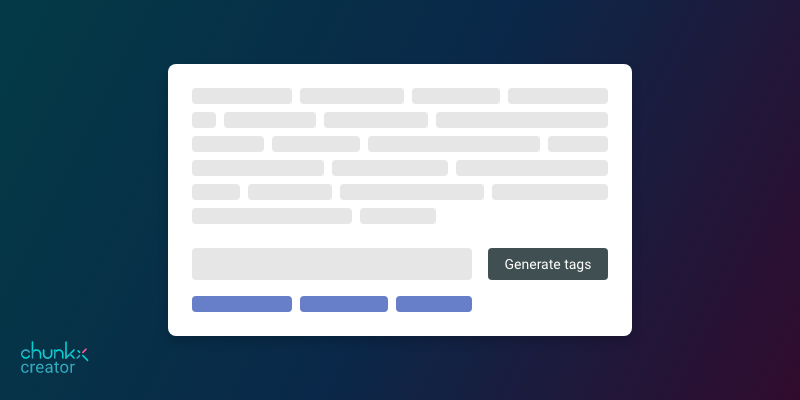 3. Personalization of the learning content
We have already created microlearning units to our existing trainings and courses in step 1. In step 2, we make sure that the content is selected appropriately per user. Now we're going one step further and enabling language models like ChatGPT to be used to further personalize content as well. Thus, content can be made easier or harder as needed, alternative variants of the content can be created for different roles, or examples can be formulated more appropriately for the profile in question. All these measures, still consumed a lot of working time without AI solutions and were therefore suitable for high-priced learning measures. Our Machine Learning team is already experimenting with this and looks forward to discussing your company's content personalization needs as well!
4. Recommendations for further learning
Continuous learning for us includes using technology to also find new content for the learner that fits his or her courses and training. If someone has taken courses on cyber security, or "subscribed" as we call it, then a newly published article on current phishing methods would be a fitting recommendation, enabling and encouraging continued learning.
Perhaps not only external open source content, but also courses from linked platforms, such as LinkedIn Learning should be considered when generating recommendations.
Or even the internal, non-public database with all knowledge articles should be related to the processed learning content and the right recommendations should be generated.
All this is part of our concept of how continuous learning can work with the help of ChatGPT and modern technologies.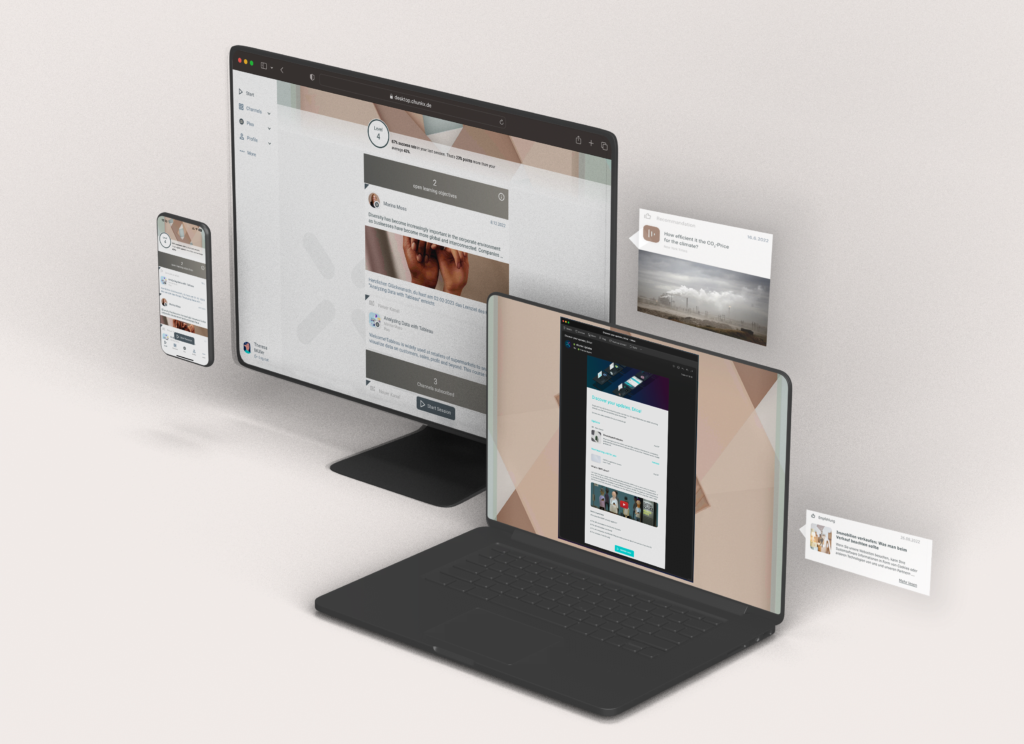 Use ChatGPT and chunkx for more personalized and continuous education
It's obvious that digital training is becoming increasingly important to your business. However, it's also clear that without sustained support, the ever-increasing amount of learning content will overwhelm you and not sustainably embed your knowledge.
That's why it's time to leverage technologies like ChatGPT and other smart tools to make employee development more continuous and personalized.
Want to learn more? Contact us for a personalized consultation and let's redefine your organization's employee development together!
Also take the opportunity to subscribe to our newsletter and never miss a technological update again. By the way, we're also on LinkedIn!