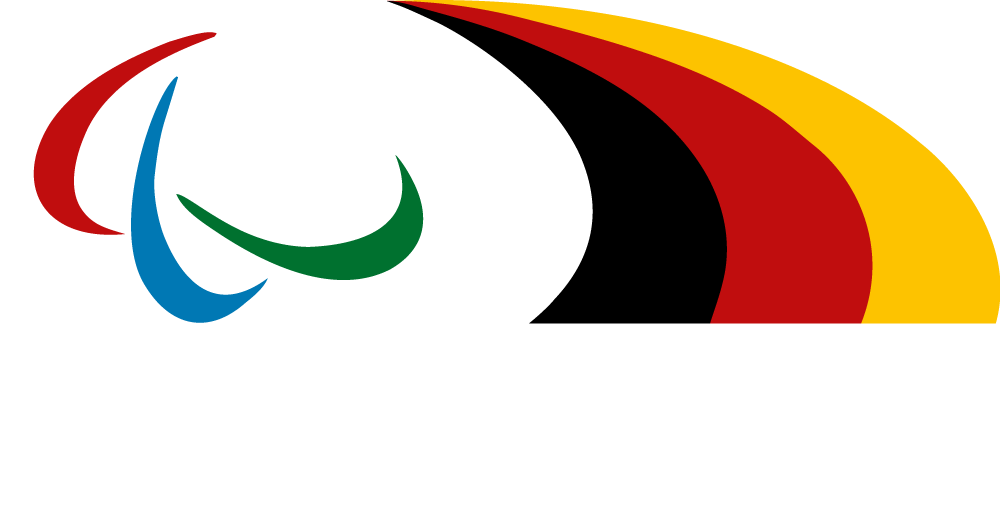 Continuous and flexible learning in parasport
Diverse learning opportunities for a fair disabled sports
The German Sports Association for the Disabled (DBS) is the largest public welfare-oriented association for athletes with disabilities in Germany. It consists of seventeen state associations, and two professional associations and represents the interests of approximately 600,000 members. It is also the umbrella organization for competitive, recreational, preventive, and rehabilitation sports for people with disabilities. In addition, the DBS is the National Paralympic Committee for Germany. A major goal of the association is to integrate the sport of people with disabilities into society on an equal footing.
In order to inspire people with disabilities to take up sports, they are provided with a diverse and comprehensive range of sports activities. This includes, among other things, a high-quality rehabilitation sports program. The federation is also very active at the international level, as the DBS has made it its goal to strengthen the international competitiveness of top Paralympic sports.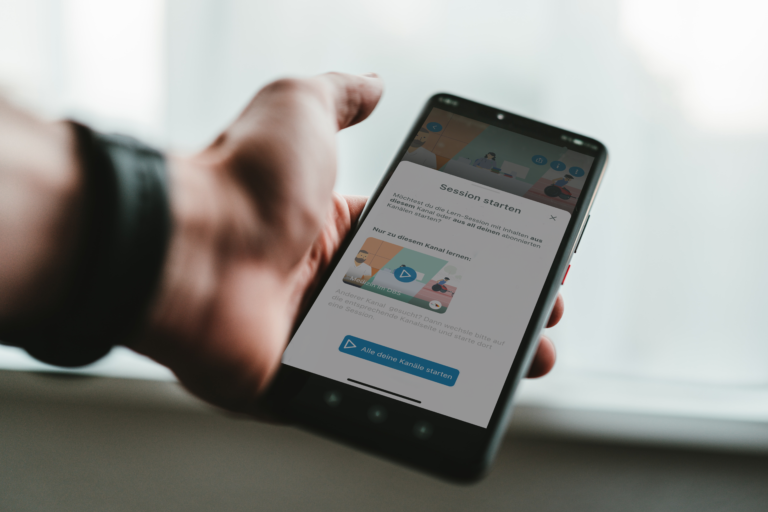 Particular emphasis is placed on high-quality training and continuing education for exercise instructors, trainers, and medical personnel in disabled sports. The focus here is on ensuring the health and medical care of athletes. Continuous development of personnel is necessary for the achievement of the above-mentioned goals. In addition to in-person education and training, digital learning opportunities are already being used where participants have access to manuscripts, lists of links and literature, and relevant information.
Want to know right now what DBS's learning offerings have to do with corporate training? Then click here.
No continuity of existing learning measures
Due to the growing need for continuing education in para-sports, the DBS would like to further develop its digital learning offering and make it more continuous. The main focus here is on teaching subjects such as classification in para-sports and the further training of medical staff, e.g. in the use of examination forms to determine the sports fitness of athletes and the corresponding diagnoses, problems, and injuries. For this purpose, the DBS asked itself how a more sustainable transfer of learning can be ensured and how the continuous expansion of content can be made possible. A complex issue that presented many challenges to the use of traditional web-based training and its platforms. This is because traditional training for further education is often designed as a one-off learning measure and is considered to have ended after a final test. This approach leads to many topics being forgotten and accordingly not being internalized. Especially in the medical field, a continuous learning process should take place in order to be able to inform about new findings, regulations, and specifications and to enable a fair as well as healthy sport. In addition, there is a need for more flexible use of the offer, which is neither time nor location dependent and gives the learners mobile and flexible access to the learning offers of the DBS whenever they have time. However, the evaluation possibilities must not be missing, which helps the DBS to ensure the relevance of the learning content as well as to understand which topics the target groups have difficulties in understanding, e.g. in order to design further learning measures or to optimize existing ones.
600.000
Members worldwide!
17
regional associations included in the DBS
#1
largest disability sports association in the world.
The DBS Academy in chunkx solving learning challenges
With chunkx, the DBS now offers a comprehensive DBS Academy that provides an adaptive, sustainable, and continuous learning experience for para-sports. Users learn more about classification, appropriate medical and health care, and sports medicine screening of athletes in para-sports through three different learning channels. In this way, knowledge about possible diagnoses, problems, and injuries can be manifested among medical personnel and the examination forms can be evaluated even better.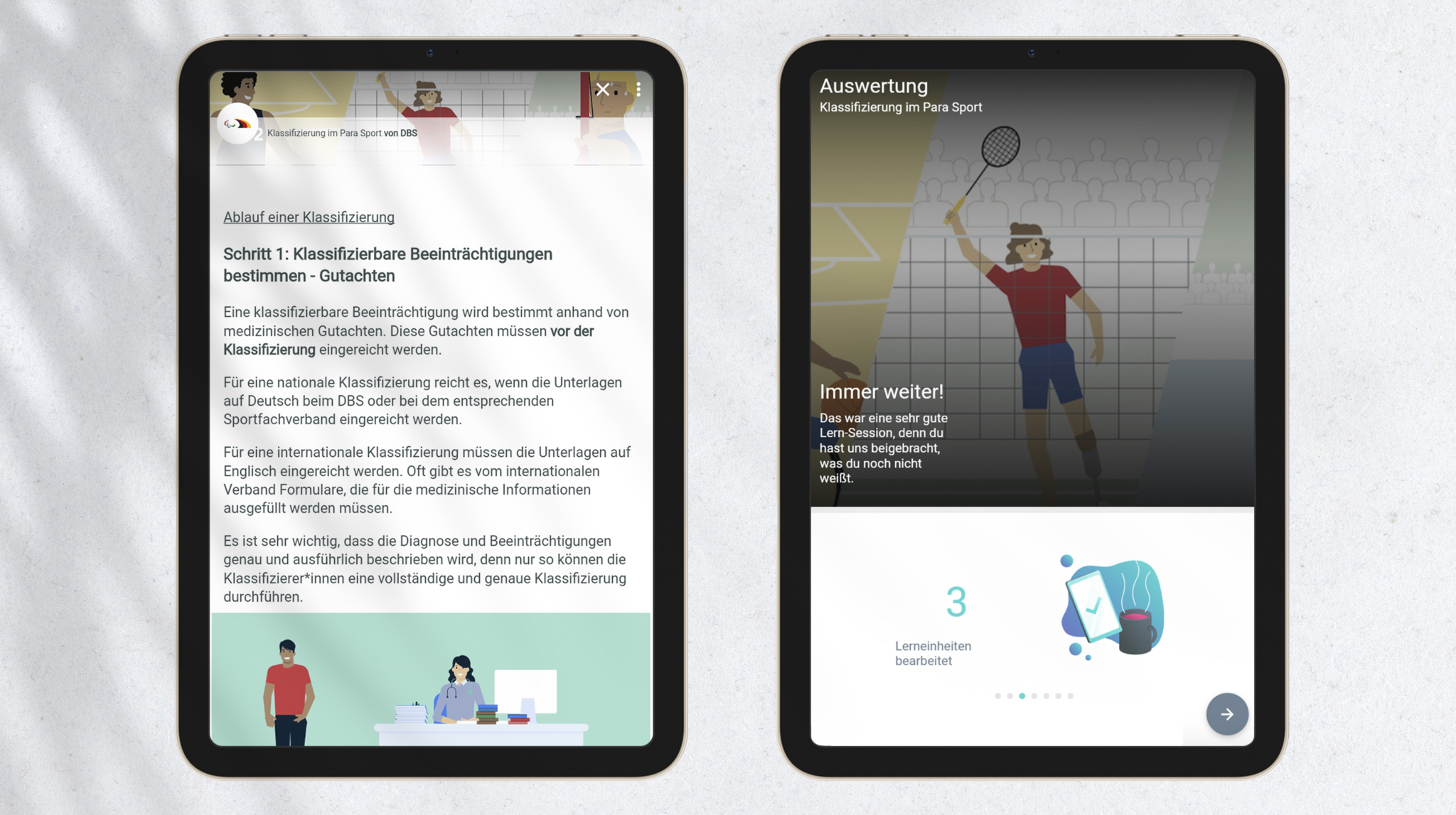 Sustainable learning transfer for all target groups
By preparing the content in microlearning units, learners now have the opportunity to easily and continuously review and reinforce the content of the courses in chunkx. Our intelligent algorithm selects learning content according to user behavior and learns and connects topics that are individually relevant for everyone. The algorithm not only repeats tasks that have been answered incorrectly but also queries correctly answered tasks again on a user-specific basis in order to ensure the sustainable transfer of learning. This allows physicians, sports scientists, and nursing staff to interrupt their learning sessions whenever they want and resume them at a later time. In addition, with the help of our AI-based content creation, changes in regulations, legalities, or updated regulations can be automatically created and shared with the target audience in the form of supplementary microlearning units. Further developments of the channels as well as recommendations of topic-related articles and studies are displayed to the learner on his newsfeed.
Gamified incentives such as small awards – called "chunks" – and ranking lists, in addition to stored learning objectives, provide incentives to regularly start a learning unit and discover the DBS Academy content.
Full flexibility for maximum learning effect
Learners can easily access the microlearning units on their smartphone, tablet, or computer, regardless of location and time. For example, DBS medical staff can quickly refresh their knowledge just before an examination. It is also possible to search for specific keywords in the content. Consequently, the doctors will be able to review knowledge shortly before the examination and concentrate on the examination of the Paralympic. To increase motivation and incentive to work diligently on the microlearning units, DBS also offers a certificate for its academy.
Detailed and efficient learning analysis
With chunkx, the DBS has the ability to easily view and evaluate learner results. In contrast to traditional e-learning systems, chunkx analyzes the completed learning units of all athletes by filtering key figures such as success and dropout rates or average repetitions by topic tag (e.g. #SMU). In doing so, the DBS gains insights into possible difficulties of the users and can better design necessary further learning measures to close possible knowledge gaps of the learners.
Rethinking mandatory training - also in companies
The DBS project clearly demonstrates how learning can be redefined and one-offs transformed into continuous learning experiences. A change that is also relevant to many topics in the corporate context. This is because mandatory training and continuing education seminars on topics such as compliance, occupational safety, ethics, and much more are also held here on a regular basis. offered, into which many scarce resources and high investments flow. Unfortunately, often without the hoped-for effect! The learning content is forgotten immediately after the training is completed and does not help the companies to achieve their sales or project goals. Adaptivity, continuity, and AI-assisted content creation are needed to future-proof workforce development. The topic of learning must be rethought: For example, learning goals should be set quarterly instead of annually, and individual learning paths should be designed from structured introductory to adaptive continuation content for employees. In addition, new communication approaches are needed that allow existing learning content to be supplemented by regular postings on current developments. We offer all this and much more to companies on their way to continuous and adaptive learning offerings. In this way, not only do the companies themselves benefit by saving resources for the creation and ensuring the sustainable anchoring of topics, but also the employees, who can learn flexibly and continuously.
Want to learn more about chunkx?
Feel free to write us and make an appointment so that we can discuss all the possibilities and questions with you.