What do "learning objectives" mean exactly?
Learning objectives complement your channels in chunkx and give learners specific targets. E.g. that 10 microlearning units must be worked on in 6 months and the tasks for this must be answered correctly. While authors cannot access the evaluations of individual users, they can see who has already completed it in the learning objectives. The purpose behind this is that learning objectives are often used for topics where completion must be demonstrated and documented.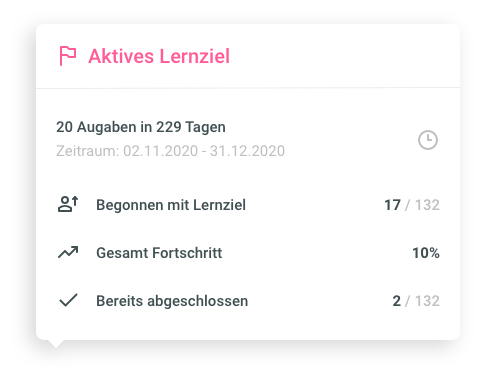 What settings are possible?
Authors can define whether tasks of the microlearning units have to be edited only or solved correctly. You can select how many microlearning units need to be processed and you can define the time period. It is possible to define optionally and to the day a time period for the respective learning goal.
The learning target can be repeated automatically. For example:
yearly,
weekly,
monthly and
quarterly.
In this way, learners get the appropriate support they need. This is how easy it is to promote continuous and sustainable learning, tailored to your own prior knowledge, with chunkx.
What is the difference to certificates in the LMS?
In typical eLearnings, a distinction is made between participation and passing the final test; in chunkx, learning objectives are instead controlled based on the micro-learning units. The learning objectives in chunkx can thus be set up in a smaller way and repeated more frequently. Instead of going through a 30-minute web-based training 1x a year, learning objectives can be set so that, for example, 1x a quarter up to 5 microlearning units have to be completed.
The effect is immediately apparent: learners benefit from more frequent repetition and moments of reflection. What is learned is not simply forgotten and is available when needed. The selection of microlearning content is adaptive and always adjusts to the individual.
More information and contact
You can find more on our page about learning objectives in chunkx and in the chunkx creator.
Is the topic relevant to you? Contact us to schedule a personal presentation appointment. We'll then look together at how you and your organization can best benefit from the new features and how we can interface with your other learning systems as needed.